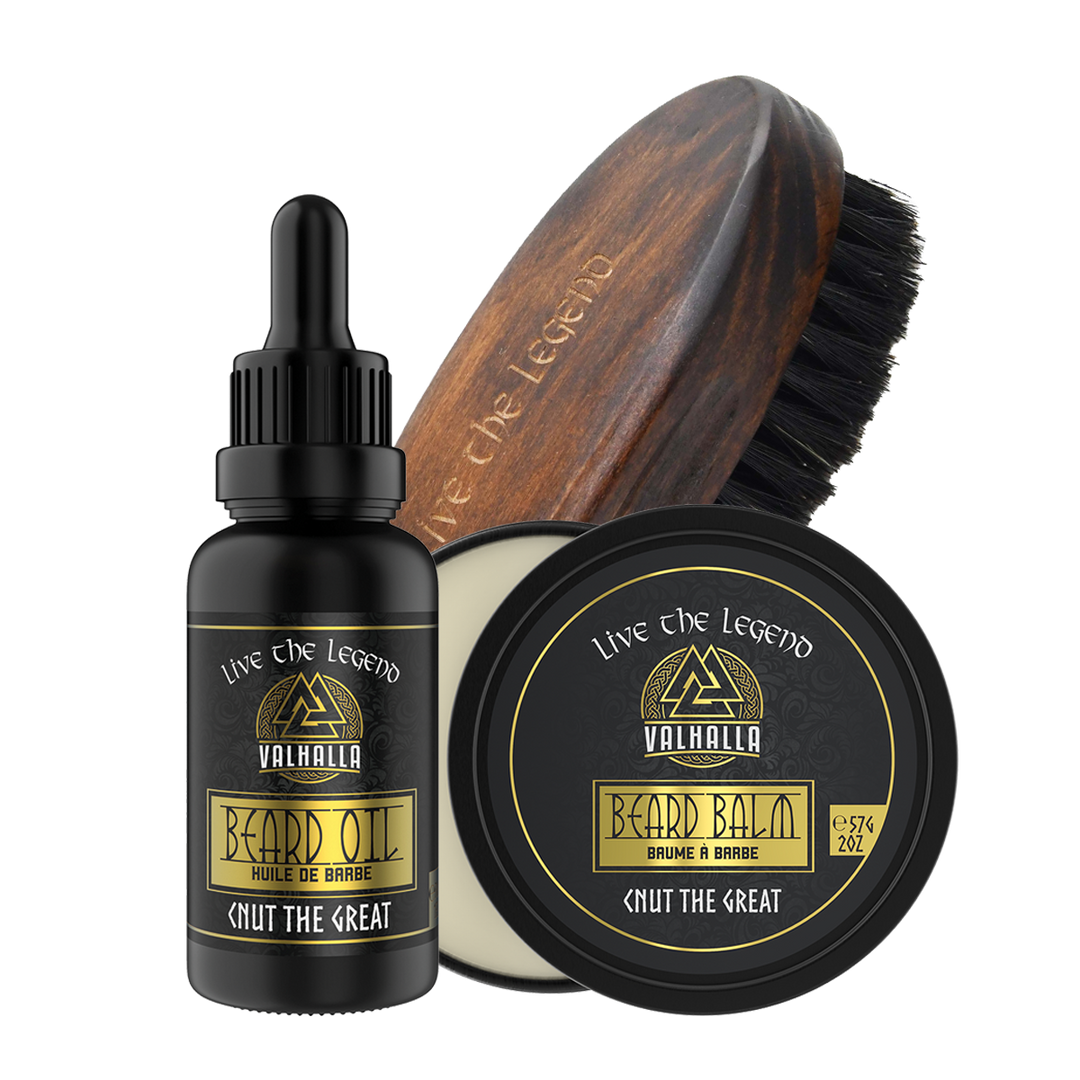 Viking Beard Care Kit
Regular price
$47.00
Sale price
$35.00
/
---
In stock, ready to ship

Inventory on the way
Unveil the Viking Beard Care Kit: Command the Respect You Deserve!
Are you weary of battling with wild, untamed facial hair that lacks the rugged allure of a Viking warrior? Do you yearn for a majestic beard that tells tales of your fierce and formidable spirit? Seek no further, for our Viking Beard Care Kit is here to bestow upon you the unrivaled power to transform your beard into a symbol of untamed strength, leaving you unyielding, gallant, and ready to conquer the world.
🪙 Feast Your Eyes on the Mighty Trio: 1️⃣ Viking Beard Oil: Our premium Viking Beard Oil is the elixir of Odin himself. Imbued with the essence of ancient Norse secrets, this nourishing potion is designed to hydrate and fortify your beard, rendering it as luxuriously soft as the finest wolf's pelt. It tames the fiercest of whiskers, preventing the itching and flakiness that mere mortals endure. Say farewell to discomfort and hello to a beard that demands respect.
2️⃣ Viking Beard Balm: Crafted with the wisdom of Viking warriors in mind, our Beard Balm is the ultimate weapon in your grooming arsenal. This opulent balm is enriched with a blend of sacred butters, waxes, and essential oils, tailored to shape and style your beard with ease. Banish unruly strands and loose hairs forever - embrace a beard that commands attention and reverence.
3️⃣ Viking Boar Bristle Brush: The final piece of our legendary triumvirate is the Viking Boar Bristle Brush. Carved from the bones of dragons, this brush boasts 100% natural boar bristles, harnessed from the mightiest of boars. Not only does it untangle the gnarliest of knots and evenly distribute beard oil and balm, but it also awakens the primal power within your facial hair follicles, promoting the growth of a beard that can only be described as epic.
🍃 Natural Potency, No Compromises: We are unwavering in our commitment to crafting products of unparalleled quality. Our Viking Beard Care Kit is forged from the purest ingredients. We understand that a warrior's beard deserves nothing but the best, and we vow to provide it.
⚔️ Why Choose Our Viking Beard Care Kit?
Peerless Quality: Our products are born from the wisdom of Viking ancestors and are subjected to the most rigorous of trials to ensure their excellence.
Complete Grooming Mastery: This kit is your complete arsenal for every aspect of beard care, from nourishment and sculpting to nurturing and growth.
Unshakable Confidence: A Viking's beard isn't just a statement; it's a legacy. Boost your confidence and leave an indomitable mark wherever you tread.
Join the ranks of Viking warriors who have harnessed the power of our Viking Beard Care Kit. Whether you bear a full warrior's beard or a fearsome stubble, this kit is your passage to beard supremacy.
Delay no longer in your quest for beard glory. Click "Add to Cart" now and seize your rightful place among the legendary beards of the North! Elevate your grooming game with our Viking Beard Care Kit and unleash your inner warrior today!