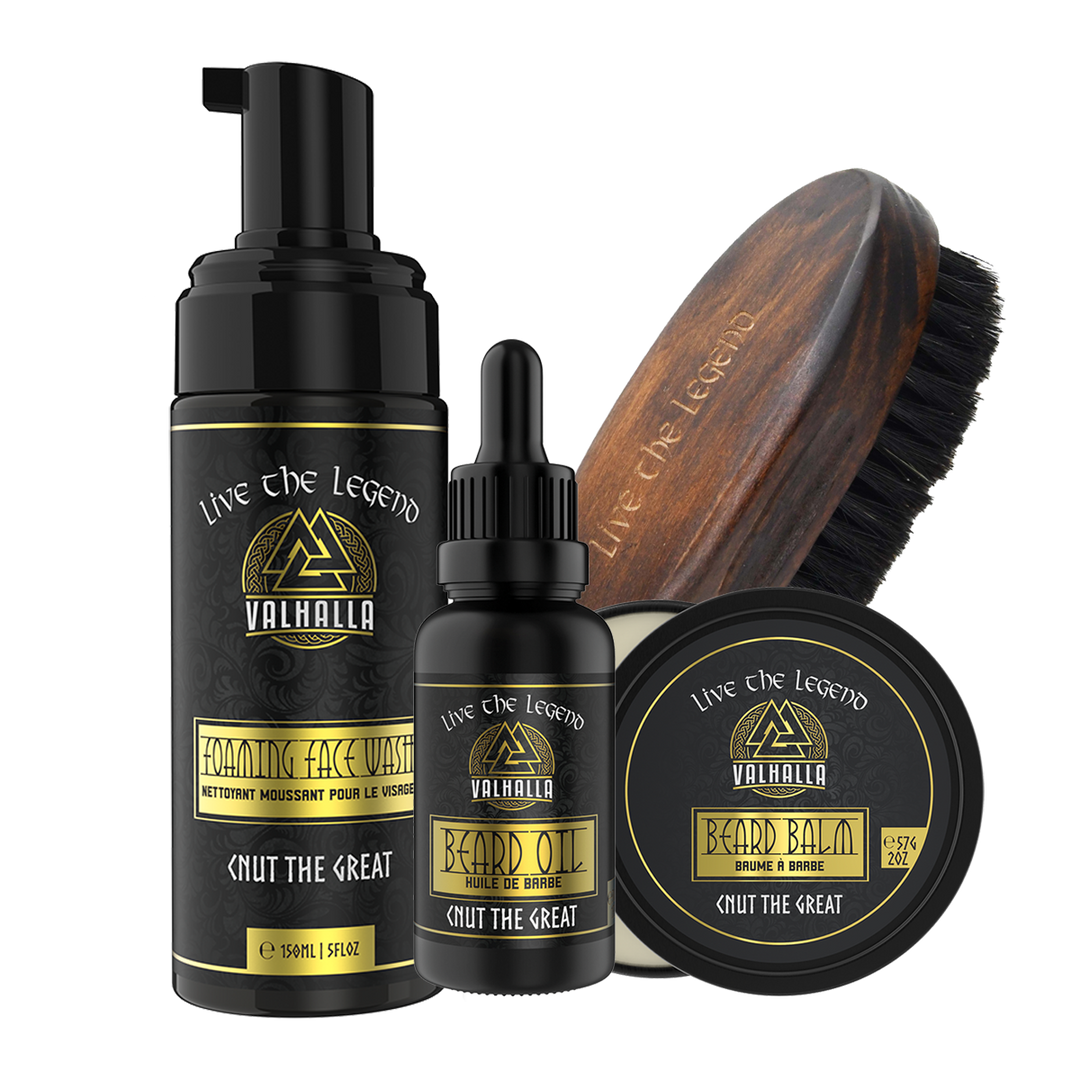 Ultimate Viking Beard Care Kit
Regular price
$59.00
Sale price
$45.00
/
---
In stock, ready to ship

Inventory on the way
Unleash the Might of the Ultimate Viking Beard Care Bundle!
Tired of your beard looking more like a wild forest than a warrior's pride? It's time to embrace the Viking spirit and transform your facial hair into a symbol of strength and valor with our exclusive Viking Beard Care Bundle. Forged with the wisdom of the Norse gods, this bundle is your gateway to a beard that doesn't just look good but exudes the power of a true Viking.
🪙 The Essentials for a Legendary Beard:

1️⃣ Viking Beard Oil: Our Viking Beard Oil, inspired by the secrets of Viking seafarers, is the cornerstone of this bundle. Enriched with a blend of potent natural oils, it's the elixir your beard craves. This lightweight formula not only moisturizes and softens your beard but banishes dryness and itchiness, leaving your beard as soft and radiant as Thor's hammer.
2️⃣ Viking Beard Balm: Every Viking needs his trusty weapon, and our Viking Beard Balm is yours. Crafted with the precision of a Viking blacksmith, it provides just the right hold to tame even the wildest of beards. Style your beard with the confidence of a warrior, whether you prefer a rugged Viking look or a refined, kingly finish.
3️⃣ Foaming Beard Wash: The cleanliness of a Viking warrior is paramount, and our Foaming Beard Wash is here to ensure your beard is as pristine as your honor. This unique wash cleanses and conditions without stripping away your beard's natural oils, leaving it refreshed and ready to conquer, just like a Viking ship on the open sea.
4️⃣ Viking Boar Bristle Brush: Completing the Viking arsenal is our premium Viking Boar Bristle Brush. Crafted with the strength of Mjölnir, it's more than just a brush—it's an experience. The natural boar bristles untangle knots, distribute beard oil and balm evenly, and stimulate robust growth. Your beard will grow thicker, fuller, and more awe-inspiring with every use.
🌿 Natural Potency, No Compromises: We honor the Viking way of life, and that includes using only the purest ingredients. No harsh chemicals just the raw power of nature that your beard deserves.
✨ Why Choose Our Viking Beard Care Bundle?
Unwavering Quality: Our products are forged with the same determination and quality that Vikings applied to their weapons.
Complete Grooming Mastery: This bundle encompasses every facet of beard care, from nourishment and styling to cleansing and growth.
Confidence Unleashed: A well-groomed Viking beard isn't just about aesthetics; it's about embracing your inner warrior and leaving a lasting mark.
Don't settle for a mediocre beard. Unleash the Viking within you and elevate your grooming game with our Ultimate Viking Beard Care Bundle. Whether you're a battle-hardened beard veteran or just embarking on your bearded journey, this bundle will have you standing tall with the strength and confidence of a Viking conqueror.
Transform your beard into a legendary masterpiece that demands respect. Click "Add to Cart" now and embark on a journey of epic proportions. Elevate your grooming game the Viking way today!
Learn More about the scents here.