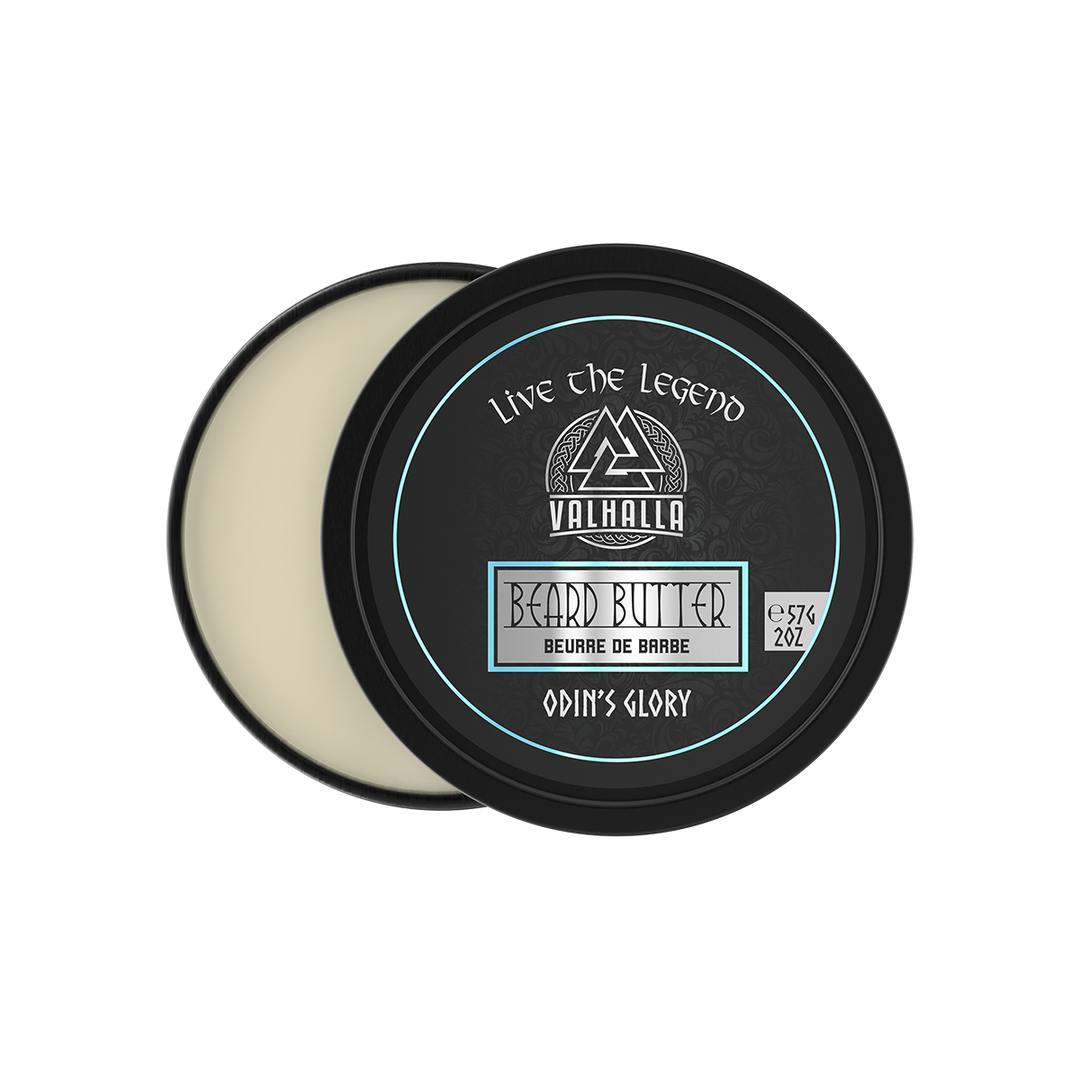 Beard Butter - Odin's Glory
---
In stock, ready to ship

Inventory on the way
Ascend to Valhalla with Odin's Glory Beard Butter
In the grand tapestry of Norse mythology, few figures command as much reverence as Odin, the All-father, and supreme deity of the pantheon. To be chosen to serve Odin in Valhalla, where warriors trained for the ultimate battle of Ragnarök, was an honour of unparalleled glory. For most Norse warriors, reaching Valhalla was the ultimate goal, often referred to as "Viking Heaven."
It is said that Odin had a liking for Vanilla Tobacco, a fragrance that enveloped him in an aura of mystique and grandeur. In homage to the All-father, we present Odin's Glory Beard Butter, a scent that captures the essence of Odin's divine presence.
Unleash the power of your beard like a true modern-day Viking with our Beard Butter. This formidable concoction combines the strength of 50% Shea Butter, potent Carrier Oils, authentic Canadian Beeswax, and fortifying Vitamin E. It's your secret weapon for maintaining a beard that's as fierce as it is refined.
Our Beard Butter is clean and mighty, requiring just a small amount to keep your beard healthy, hydrated, and entirely free from the grip of greasiness. Bid farewell to mediocrity and embrace a beard that is both robust and impeccably groomed.
Channel the spirit of a Viking warrior as you indulge in the luxurious blend of Shea Butter, renowned for its deep nourishing prowess. Combined with the durability of Canadian Beeswax and the vitality of Carrier Oils, your beard will command attention while maintaining its strength and style throughout the day. Experience the confidence of a beard that not only looks astonishing but feels as formidable as a modern Viking's resolve. Elevate your grooming game and conquer your day with our Beard Butter.
Butyrospermum Parkii (Shea Butter), Orbignya Oleifera (Babassu) Oil, Cera Alba (Yellow) Bees Wax, Vitis Vinifera (Grape) Seed Oil, Cetyl Alcohol, Fragrance, d-Alpha Tocopherol, Rosmarinus Officinalis (Rosemary) Leaf Extract.
Vanilla Tobacco.
Our Odin's Glory Beard Butter scent is a Vanilla Tobacco scent that is surprisingly smooth, with sultry and seductive notes. It is extremely complex and rich... must try! This scent combines the scent of warm vanilla, a bit of smokiness and fresh pipe tobacco.
Massage the luxurious butter into your hair and roots while sculpting your beard with a dime-sized portion.
This product may attract Valkyrie Warriors. For external use only. Avoid contact with eyes. Store in dry, cool place, out of direct sunlight, and out of reach of children. Discontinue use if irritation occurs. DO NOT leave in hot room or car as this product will melt.