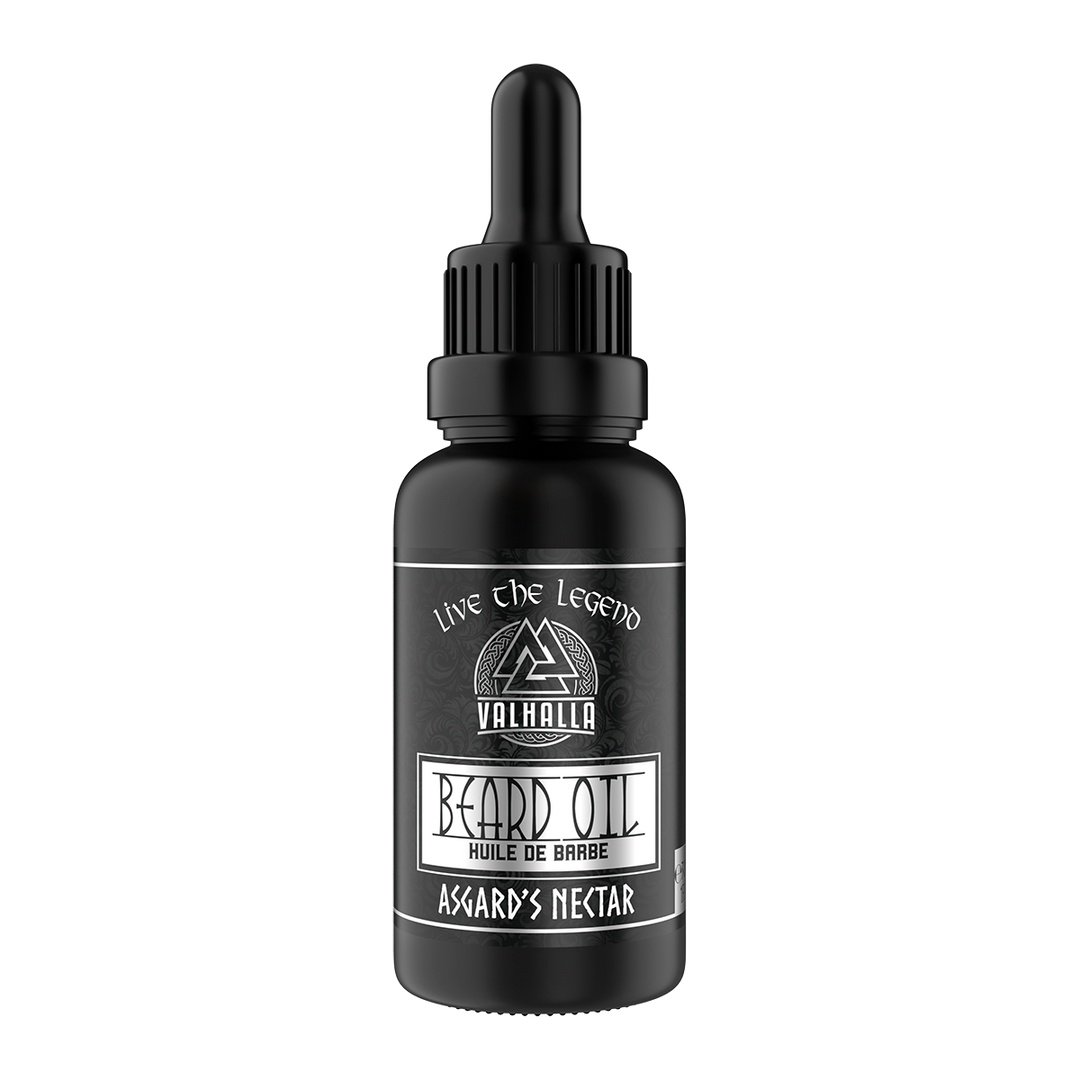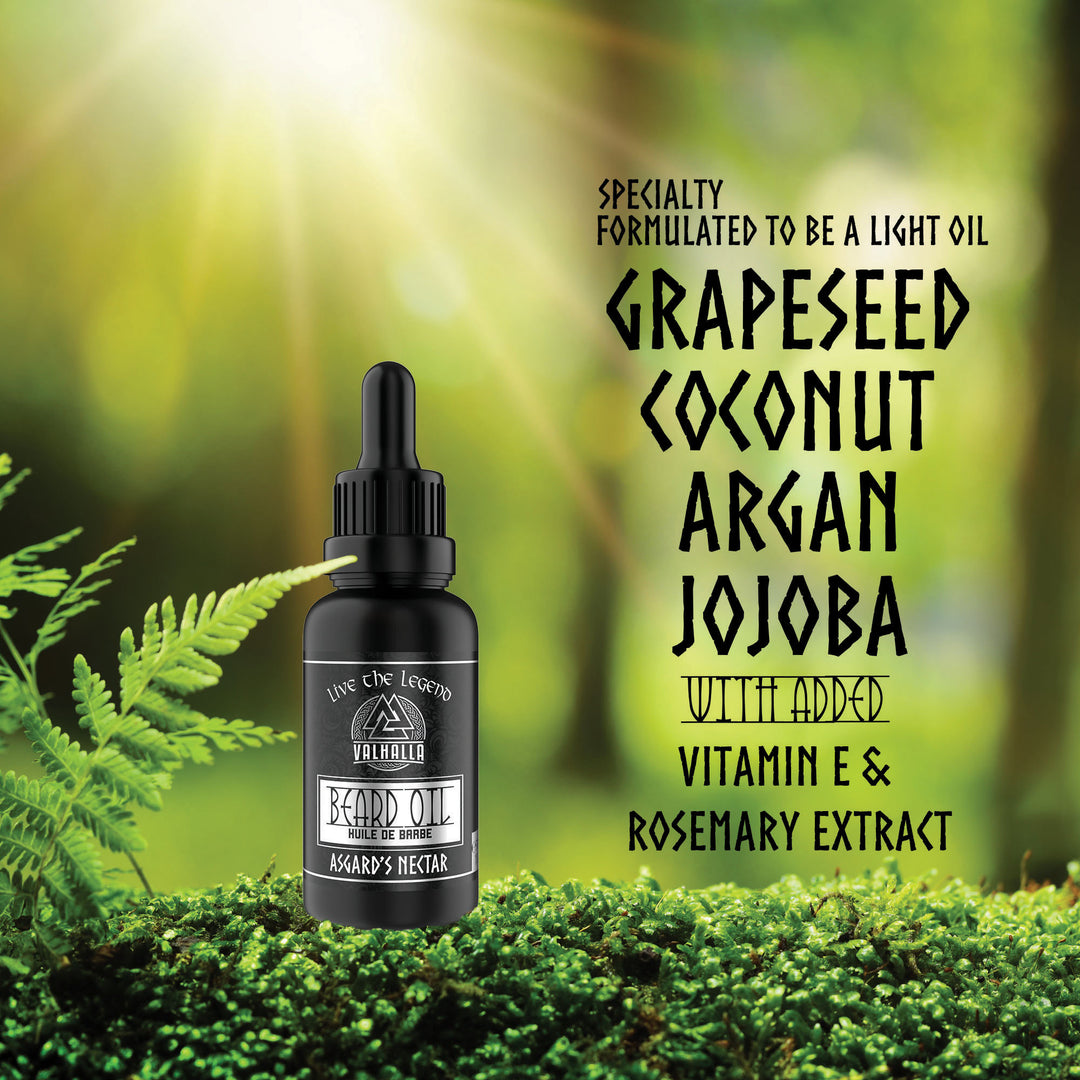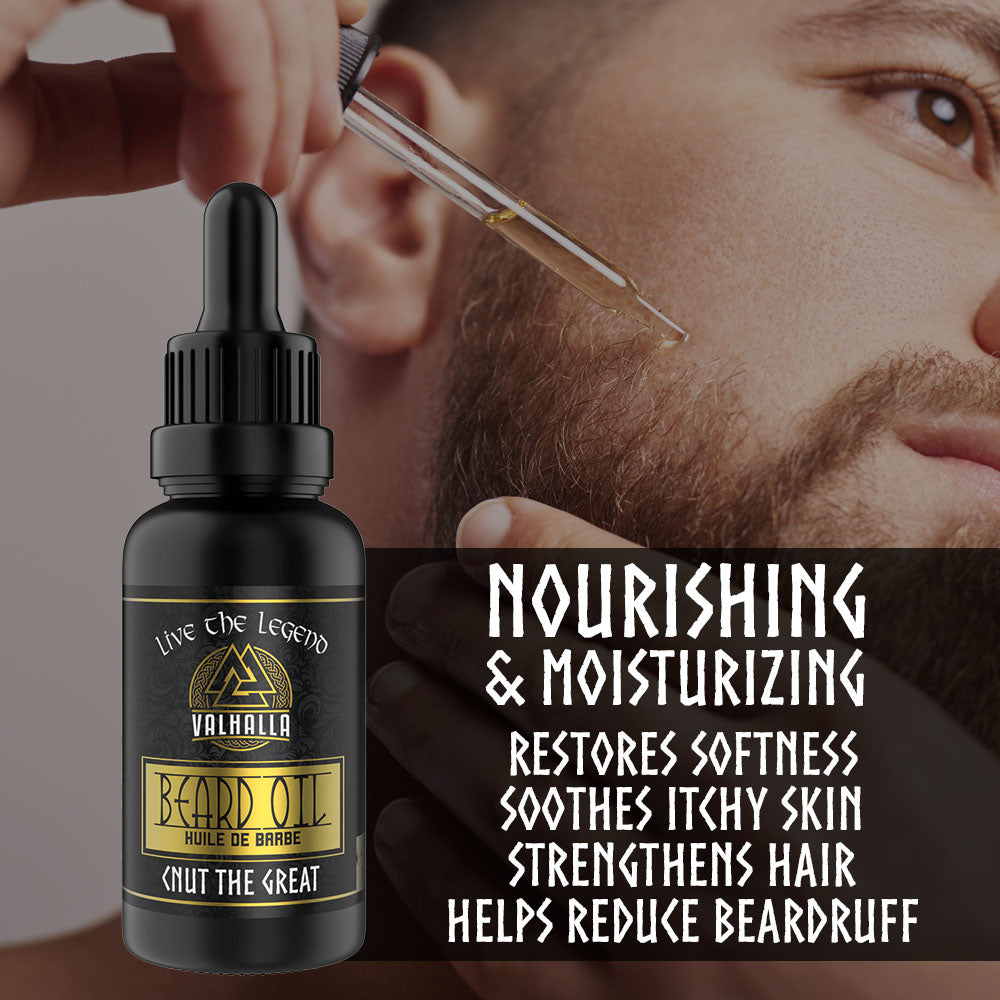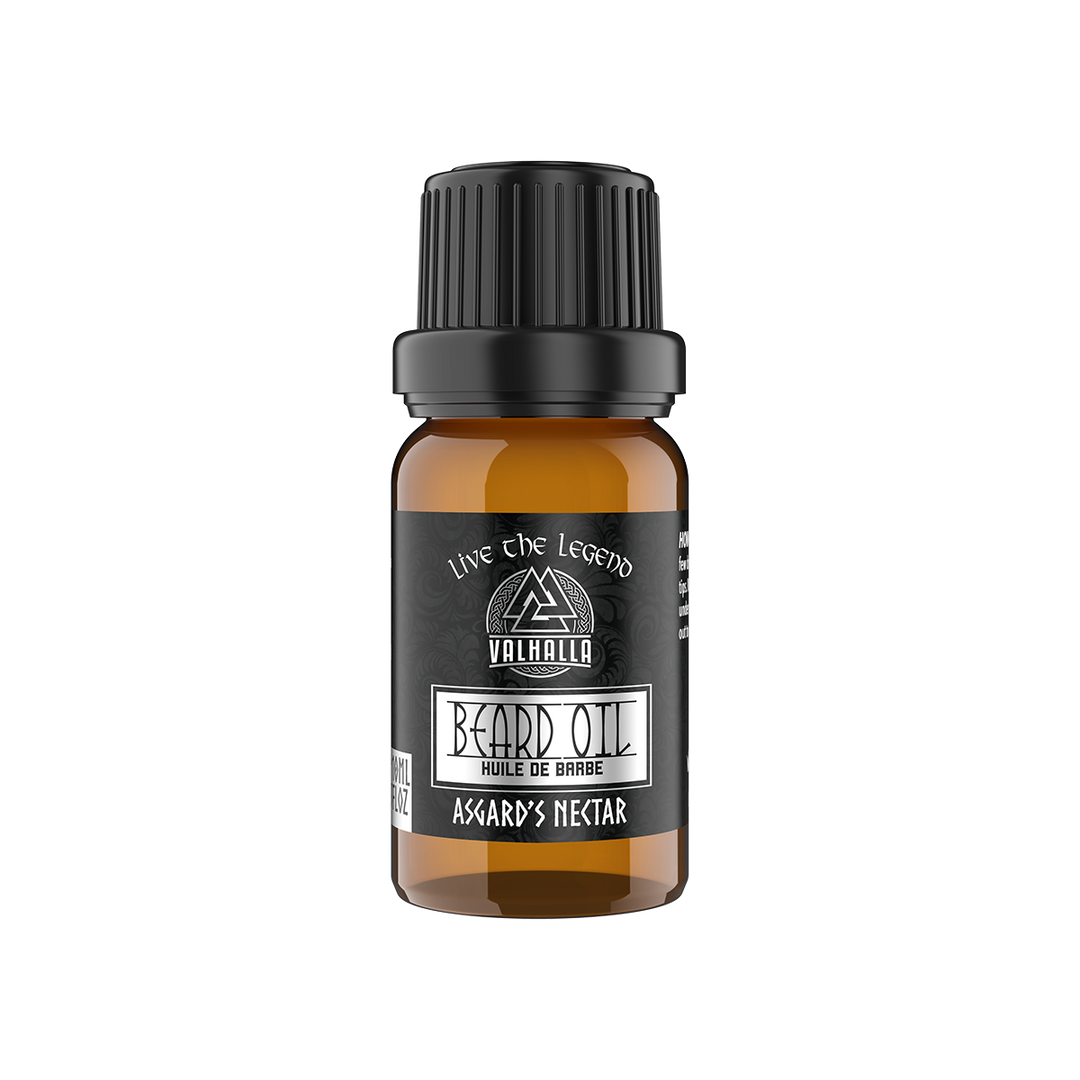 Beard Oil - Asgard's Nectar
---
Low stock - 9 items left

Inventory on the way
Unlock Viking Beard Magnificence with Asgard's Nectar Beard Oil
In the rich tapestry of Norse mythology, Asgard, one of the Nine Realms, basks in the divine presence of the Æsir, a tribe of gods. Deep within the hallowed halls of Asgard, a whispered legend tells of the gods' deep affection for Bourbon—a tale that has now been etched into our remarkable Beard Oil, Asgard's Nectar. Infused with the captivating scent of Sandalwood Bourbon, this premium Beard Oil is your ticket to Viking Beard Care at its finest.
As you embark on your grooming journey, let Asgard's Nectar Beard Oil be your steadfast companion. With each application, you're not just grooming; you're immersing your beard in the mystique of Asgard. This elixir journeys deep, bestowing a surge of moisture to your beard and the skin beneath, taming the wildness and nurturing robust growth. It's the key to achieving the pinnacle of manly magnificence, offering nourishment, purification, and restoration—a trifecta your beard craves.
With each drop of Asgard's Nectar Beard Oil, you honour the divine connection between gods and Bourbon, elevating your beard to a higher plane of magnificence. As you apply it with purpose, you embark on an epic voyage, your beard a vessel for the scents of gods and the aspirations of Viking glory. Will you answer the call and unleash the legend within? Your saga unfolds now!
Mighty Viking Elixir's Prowess:
Forged in the Fires of Craftsmanship:

 

Handcrafted in small batches for unmatched quality

, potent batches
A Quenching Torrent of Moisture: Bestows intense hydration, ensuring a beard of remarkable suppleness
The Softness of Viking Valour: Champions beard tenderness, banishing the dreaded itch
Banish the Beard Blizzard: Casts away beard dander, unveiling a pristine visage
Radiance of the Norse Gods: Imparts a natural shine for a truly well-kempt beard
The Unwavering Reign of Taming: Effortlessly subdues unruly beard strands
Girth and Grandeur of a Viking's Beard: Infuses depth and fullness into your beard
Healing Magic of the Ancients: Nurtures hair and skin, ensuring peak vitality
Compassionate to Creatures of the Earth: A cruelty-free creation, never tested on animals
Forged with Northern Pride: Crafted with honour in the land of Canada
Vitis Vinifera (Grape) Seed Oil, Coconut Oil, Argania Spinosa (Argan) Kernal Oil, Simmondsia Chinensis (Jojoba) Seed Oil, Fragrance, d-Alpha Tocopherol, Rosmarinus Officinalis (Rosemary) Leaf Extract.
Sandalwood Bourbon.
Our Asgard's Nectar Beard Oil scent is a Sandalwood Bourbon which is a woody, amber-moss and sweet spice aroma. A nice smooth scent that leaves you feeling fresh! Perfect for any gentleman and any occasion! Definitely a scent that is cheered and celebrated in Asgard!
Put 3 to 4 drops in your hand and massage the oil into your beard and skin. For longer beards use 8+ Drops. 
This product may attract Valkyrie Warriors. For external use only. Avoid contact with eyes. Store in dry, cool place, out of direct sunlight, and out of reach of children. Discontinue use if irritation occurs.