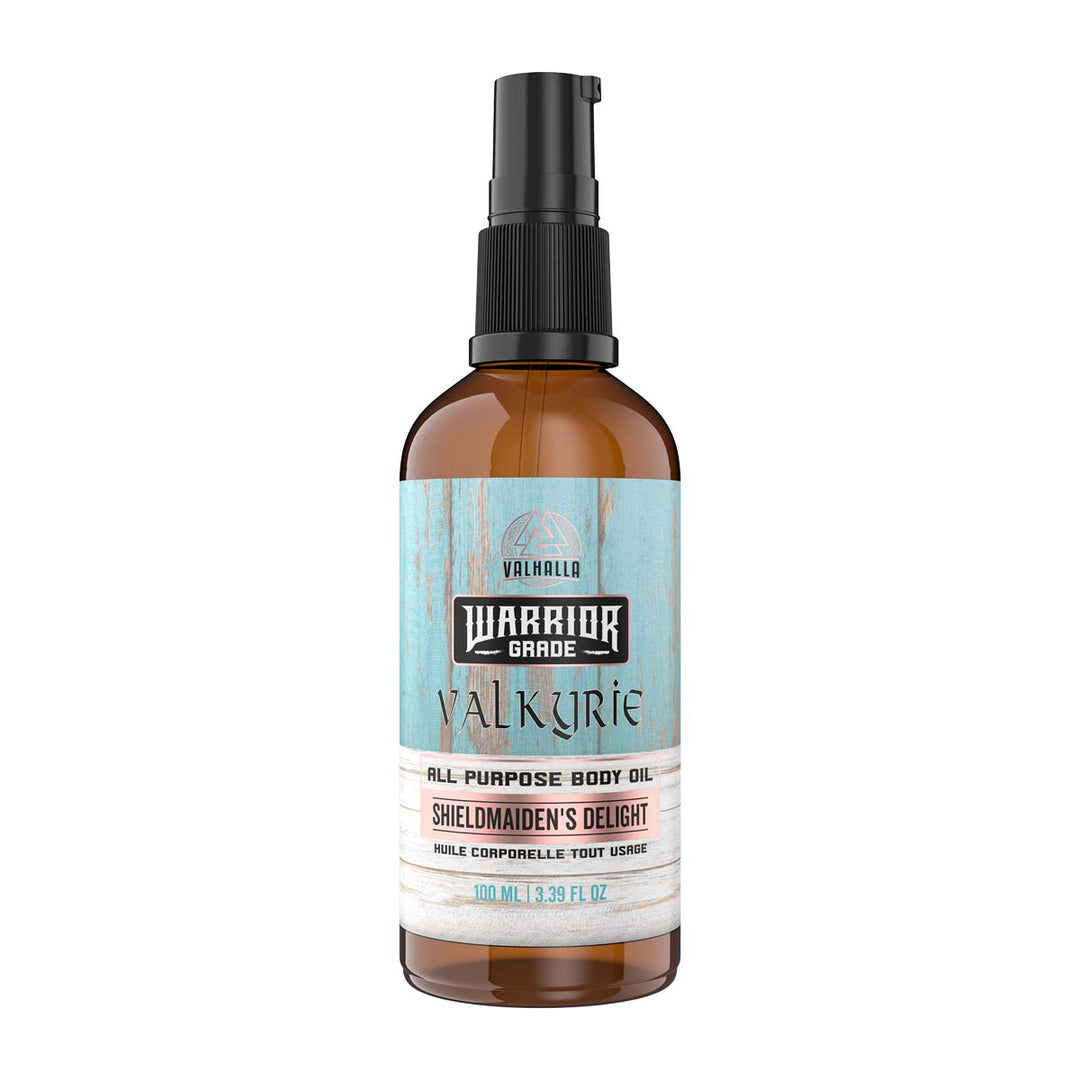 Body Oil - Shieldmaiden's Delight
Regular price
$22.00
Sale price
$17.00
/
---
In stock, ready to ship

Inventory on the way
Introducing the Ultimate Elixir for Viking Shield-Maidens: Shieldmaiden's Delight Body Oil! 
🌿 Unleash Your Inner Warrior Goddess 🌿
Are you ready to embark on an epic journey to embrace your inner Valkyrie? Look no further! Shieldmaiden's Delight Body Oil is the elixir that every Viking shield-maiden has been waiting for. Crafted with the strength of the fjords and the grace of Odin's chosen, this body oil will have you feeling like a true warrior goddess.
🌟 What Makes Shieldmaiden's Delight So Special? 🌟
🛡️ Fortified Defense: Our body oil is formulated with ingredients that can withstand the harshest of battles. The blend of organic oils, creates a protective barrier for your skin, just like the shield you wield in battle.
🌊 Hydration from Valhalla: Sourced from the purest springs of Asgard, our body oil nourishes and hydrates your skin, leaving it as soft and supple as the petals of Idunn's apples. Say goodbye to dryness and hello to radiant, dewy skin!
⚔️ Eternal Aroma: Shieldmaiden's Delight boasts an intoxicating scent reminiscent of the blooming meadows of Valhalla. With notes of vanilla, sandalwood, and the essence of a warrior's heart, you'll be enveloped in an aura of strength and allure.
🌈 Viking-Tested and Shieldmaiden-Approved: Crafted with the utmost care, this body oil is free from harsh chemicals, parabens, and cruelty. It's suitable for all skin types, ensuring that even the most sensitive shield-maiden can enjoy its benefits.
📜 The Saga of Application: Applying Shieldmaiden's Delight is a ritual in itself. Gently massage it into your skin, starting from your toes and working your way up to your crown. As you do, visualize the strength and beauty of the shield-maiden within you awakening.
🌌 A Viking Experience: Immerse yourself in the world of the Norse gods and shield-maidens every time you use this body oil. Let your skin absorb the secrets of the fjords and the wisdom of the runes.
🎁 A Gift from the Gods: Whether you're treating yourself or choosing a gift for a fellow warrior, Shieldmaiden's Delight Body Oil is a gift worthy of Valhalla itself. Each bottle is adorned with authentic Viking runes, adding an extra touch of authenticity to this extraordinary elixir.
🔥 Unleash Your Inner Shield-Maiden Today! 🔥
Don't wait for the next Ragnarok to transform into the fierce and radiant warrior you were born to be. Shieldmaiden's Delight Body Oil is your ticket to embodying the spirit of the shield-maiden. Are you ready to conquer the world with the power of the Norse gods? Embrace your destiny today!
Hurry, shield-maidens, for this elixir is as rare as the legendary Mead of Poetry. Seize it now and let the saga of your beauty and strength be told for eternity! Skål!
🛡️ Unlock Your Inner Warrior Goddess with Shieldmaiden's Delight Body Oil! 🛡️
Ingredients: Vitis Vinifera (Grape) Seed Oil, Helianthus Annuus (Sunflower) Seed Oil, Caprylic/Capric Triglycerides, Argania Spinosa (Argan) Kernal Oil, Cannabis Sativa Seed Oil, Simmondsia Chinensis (Jojoba) Seed Oil, Rosa Moschata (Rosehip) Seed Oil, Fragrance, d-Alpha Tocopherol, Rosmarinus Officinalis (Rosemary) Leaf Extract.