Tattoo Aftercare Products for the Healing Process and for Revitalizing Older Tattoos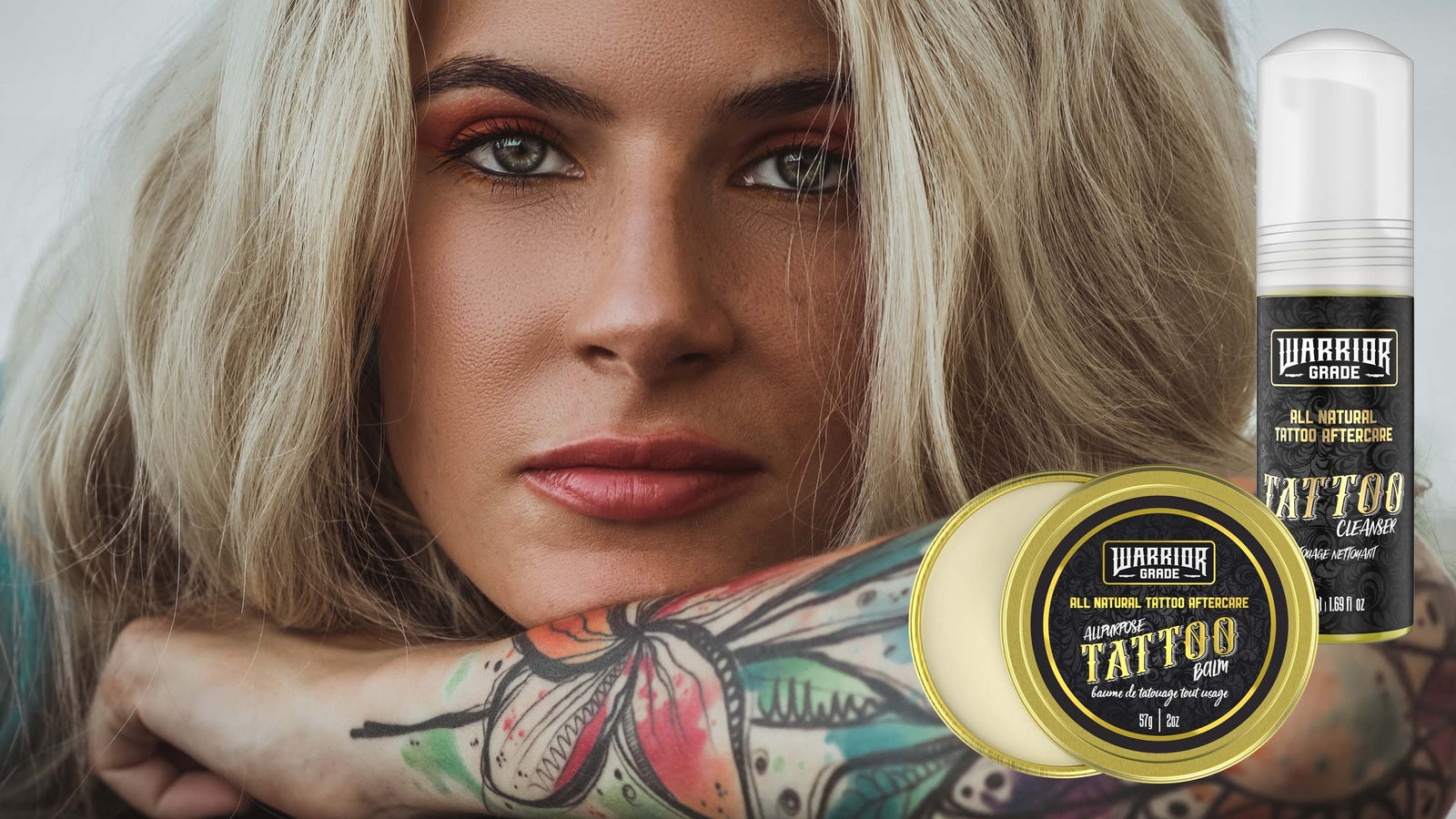 Tattoos are forever! That's reason enough to treat your skin right! 
Get to know our Tattoo Aftercare Products! 
Protecting and Healing Fresh Tattoos.
You just got some new ink! So now is the time to preserve and protect your healing skin. 
Protective Tattoo Balm has big-time 100% all natural ingredients that aid in healing and the protection of new ink. Keep your new tattoo protected while also allowing it to heal properly with natural healing premium ingredients such as shea butter, castor oil, coconut oil, hemp seed oil, Jojoba, Rosehip and more!
Our protective balm is also a harder wax. Which you scrape out with the back of your thumb and melt in your hands before applying. It is essential to wash your hands before use. Because our Protective Tattoo Balm has a healthy beeswax balance, this will ensure the healing skin has a protective barrier during this critical time. Beeswax helps create a barrier on the skin to reflect unwanted free radicles. It also allows your skin to breathe freely opposed to Petro Jelly that blocks the skin from breathing. Our product does not contain any Petroleum by-products. 
Benefits
Speed up healing process with natural anti-bacterial properties
Protective barrier helps tattoo stay free from infection
Soothes dry, itchy skin while healing
Revitalizing Older Tattoos 
You invested in artwork. Now invest in healthy skin and tattoos. 
All Purpose Tattoo Balm is a soft, creamy, delicately textured blend, containing, shea butter, avocado oil, vitamin E, calendula oil and more. Rejuvenate your tattoos while adding brightness, keeping lines and colours (including black) well preserved and vibrant over the years. Moisturizing and soothing, it keeps tattooed skin hydrated, radiant, and supple. Apply daily, massaging it gently into the skin until absorbed. It's also an excellent product for after exposure to sunlight or tanning lamps.
​
 Benefits
Brightens up colours and redefines the lines of tattoos
Helps prevent tattooed skin from aging
Provides instant and long-lasting hydration
Controlled Quality
Our Tattoo Aftercare uses only high-quality raw materials specifically selected for their effectiveness on tattooed skin. The formulation and production of this product is strictly and entirely MADE IN CANADA.
Side Note: When using any Tattoo Aftercare products on the market it is always important to do a patch test on your skin prior to using on your fresh tattoo. Everyone is different and if you are sensitive to products and/or have a lot of allergies it is important to complete a patch test before use. 
---